The Alaska Chamber has created a toolkit to help businesses and other qualifying individuals prepare to file for relief loans under the Coronavirus Aid, Relief, and Economic Security (CARES) Act and/or a loan through the Small Business Administration disaster loan program. Our website is maintained on a regular basis with the most current and reliable information for you and your business as you begin to take the necessary steps towards accessing funds to keep employees on the payroll and your doors open during this unprecedented time.
For more resources and information to help you navigate this challenging time, please visit Governor Dunleavy's website.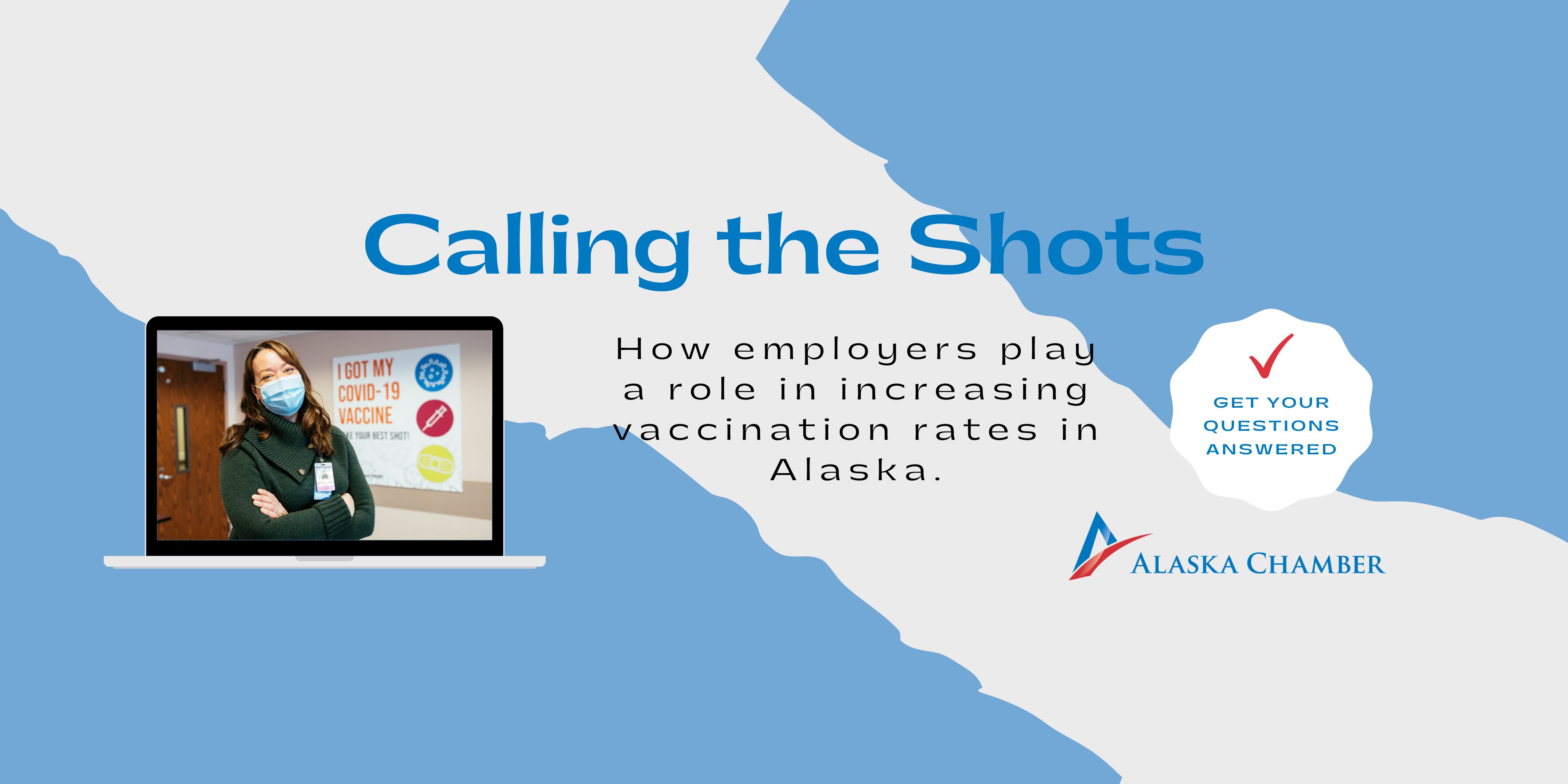 Calling the Shots - A Collaborative Discussion for Employers about the COVID-19 Vaccine 
Featuring Presenters:
Department of Health and Social Services: Dr. Joe McLaughlin, Dr. Lisa Rabinowitz, and Tessa Walker Linderman
"Sleeves up for Summer" campaign, and resources the State can provide to businesses to make vaccination as easy as possible for those who wish to vaccinate.
 
Birch, Horton, Bittner & Cherot: Jennifer Alexander, Partner
 
Blueprint Alaska: Sarah Erkmann Ward, APR
 
Lastly, a few Alaska Chamber member companies share their approach to encouraging employee vaccination to those who choose it.
Monday, May 3, 3:00 pm
Access Passcode: x.2T!N8?
DHSS Sleeves Up for Summer Slides

 American Rescue Act: What You Need to Know 
w/ Chris Eyler, Executive Director of Congressional and Public Affairs at the U.S. Chamber of Commerce
Wednesday, March 24, 1:00 pm
Access Passcode: a4+r!z!7
Updated PPP Loan Forgiveness Application
Chris Eyler, Executive Director of Congressional and Public Affairs at the U.S. Chamber of Commerce
Thursday, June 18, 2:00 pm
CARES Act
w/ Senator Murkowski, Senator Sullivan and Congressman Young
Friday, April 3, 9:00 am
Stimulus Package Explained
w/ Neil Bradley, Executive Vice President and Chief Policy Officer, U.S. Chamber of Commerce
Friday, March 27, 9:00 am
The information provided on this website does not, and is not intended to, constitute legal or medical advice; all information, content, and materials on this site are for general informational purposes only.