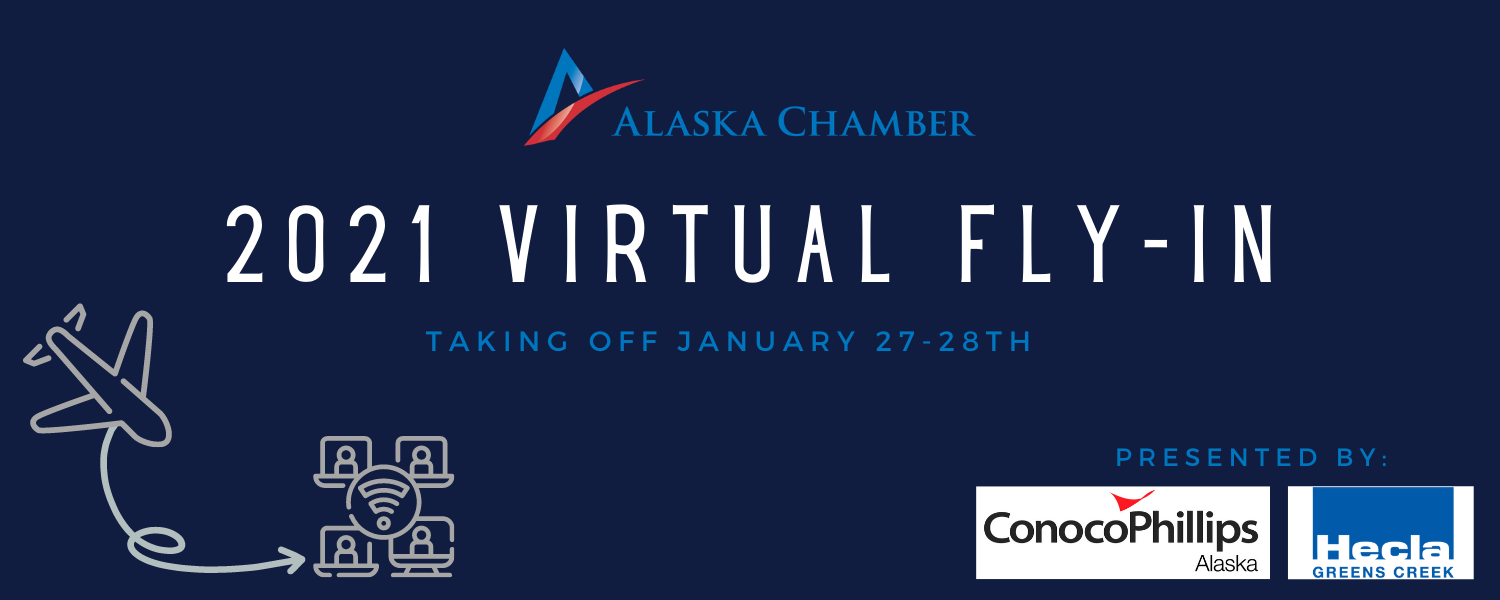 Location:
MEETING CENTER
Fly-In is going virtual for 2021.
Date/Time Information:
January 27 - 28, 2021
A Draft Agenda is as follows:
Wednesday, January 27th
8:30am – Welcome and Alaska Chamber Priorities and Positions Overview
9:00am – Where Do We Go from Here? A U.S. Chamber update on Energy, Infrastructure, and the Chamber's role moving forward.
Chris Eyler, Executive Director, Northwest Region, U.S. Chamber of Commerce
Christopher Guith, Senior Vice President, Energy Institute, U.S. Chamber of Commerce
Ed Mortimer, Vice President, Transportation and Infrastructure, U.S. Chamber of Commerce
10:00am – Walt Bass, Vice President, Finance, ConocoPhillips Alaska
10:05am – Governor Dunleavy
10:45am – 1:00pm – Break
1:00pm - How-To HopIn (optional Q&A on how to use the platform for virtual meetings with Legislators)
1:30 – 4:30pm – Small Group Legislator Meetings
Talking Points for 2021 for Legislator Meetings
Thursday, January 28th
8:30am – Proposed Budget and Spending Cap Deep Dive
Neil Steininger, Director, Office of Management and Budget
Caroline Schultz, Chief Policy Analyst, Office of Management and Budget
9:30am – Legislative Leadership
Senate President Peter Micciche
Senate Minority Leader Tom Begich
        House leadership will be invited once organized.- Legislative Leadership
10am – Noon – Small Group Legislator Meetings
Noon – Healthy People, Healthy Economy
Commissioner Adam Crum, Department of Health and Social Services
Alaska Chamber Economic Impact Survey Results (click for slides from presentation today)
Donna Logan, McKinley Research Group
1:30 – 5:00pm – Small Group Legislator Meetings
Talking Points for 2021 for Legislator Meetings
Contact Information:
Annie Graff, Office & Events Coordinator
Fees/Admission:
Individual Registration: $150
SHOWCASE YOUR BUSINESS!
It's membership dollars and sponsorships that make our events possible and successful. We have sponsorship levels for all budgets and many opportunities for you to support the 2021 Legislative Fly-In. For the list of sponsorship opportunities click here. If you are interested in becoming a Fly-In sponsor, please contact Annie at Annie@alaskachamber.com or (907) 278-2722 to discuss options.
CANCELLATION POLICY
We understand that plans change. However, due to the event being hosted virtually, we are unable to process full-refunds. If you are unable to attend the event, we are happy to sign up a colleague as your replacement. Tickets are transferrable until 1/24/21. Cancellations are available but will require a $50 cancellation fee.
THANK YOU TO OUR 2021 FLY-IN SPONSORS