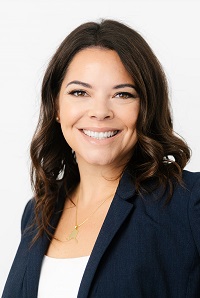 Kati Capozzi
President & CEO
Kati Capozzi has served as the President and CEO of the Alaska Chamber since April 2019. Prior to her appointment at the Chamber, Capozzi served as the campaign manager for Stand for Alaska, the group that soundly defeated Ballot Measure 1 in 2018. Before leading the Stand for Alaska effort, Capozzi worked for five years as a communications and projects manager at the Resource Development Council. Her passion for advocacy work and promoting a healthy business environment in Alaska began in 2011 at the same organization she now leads, originally serving the Alaska Chamber as communications and events director.
Capozzi serves on the board of directors for the Association of Chamber of Commerce Executives and the Committee of 100 at the U.S. Chamber of Commerce. Closer to home, she's an appointed commissioner at the Heritage Land Bank for the Municipality of Anchorage. Capozzi moved to Alaska in 1996 and lives and plays in Eagle River with her husband Daniel and their dog Missy.
April Cooley
Contract Bookkeeper - in the office one day a week
April Cooley was transplanted in Anchorage in 2003, shortly after receiving her B.S. in Business Administration, with an emphasis in Accounting, from Oregon State University. April founded Cooley Tax & Accounting, Inc in 2013, a home based business, in an effort to spend more time with her husband and three children. She enjoys being part of the small business community in Anchorage, which represents the greater part of her client base. April considers Alaska home, where she enjoys spending as much time on the mountains and trails, by bike, foot, snowboard and ski.
Lydia Haigh
Membership and Office Manager
Lydia Haigh joined the Alaska Chamber as the Membership and Office Manager in October 2023. Haigh made her way to Alaska in 2012, her professional background is rich and diverse, encompassing experiences in communications, marketing, and process management. Haigh holds a BS in Business, specializing in Marketing.
Haigh is a community-oriented and family-centric individual with a passion for coffee and a love for hiking and cross-country skiing. Her enthusiastic engagement in community activities underscores her unwavering commitment to making a positive impact, while her vibrant family life keeps her grounded and content.
Kari Nore
Director of External Affairs
Kari Nore joined the Alaska Chamber as the Director of External Affairs, in March of 2023. Prior to the Chamber, Nore served as Project Manager at the Resource Development Council for Alaska, Inc. for over two and a half years. She spent almost 6 years working in the Alaska State Legislature, advancing from the front desk scheduler to a senior staff position in the Senate President's Office. 
Nore holds a B.A. in Political Science with a double minor in French and Psychology from Gonzaga University in Spokane, WA. Nore is a life-long Alaskan who was born and raised in North Pole. In her spare time, she can be found spending time outside with her Golden Retriever named Mabel, out on the water in search of salmon, on a yoga mat, or tackling a never-ending pile of DIY projects.